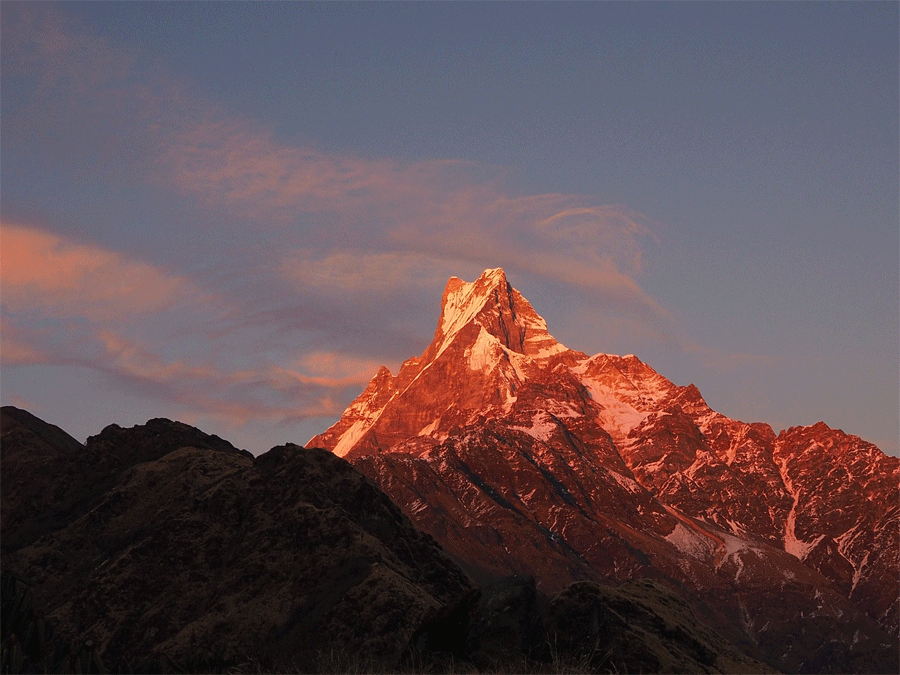 This Mardi Himal trek is for those who want to take the route less crowded while not having to give up on stunning views of the mighty Himalayas. Join us on this short, six-day trip and enjoy your journey through the famous Annapurna region.
Your journey starts in Kathmandu, from where you will take the bus to Pokhara. Spend a night in Pokhara before another bus journey takes you to Kande. Enjoy a six-hour trek to Forest Camp, located at an altitude of 2,500 m. Continue your journey to Low Camp (2,970 m) and follow the trail to High Camp (3,550 m). Your final destination is Mardi Himal Base Camp, the highest point of the trek located at an altitude of 4,500 metres.
New to trekking, short on time or just looking for something different? The Mardi Himal trek is a short but attractive hiking destination that starts from Kande, a short drive from Pokhara, and ends in Lwang eco-village near Pokhara. See excellent views of the Himalayans from a high viewpoint, trek through iconic rhododendron forest and get up close to the mighty Himalayan giants, including Mount Annapurna, Annapurna South, and Mount Fishtail.
The major highlights of this trek undoubtedly is Mardi Himal Base Camp, where you will reach after hiking through traditional Nepali villages while enjoying scenic landscape and stunning views of Annapurna South, Himchuli and Machhapuchhare mountains.
The journey begins with a drive to Pokhara from Kathmandu by bus on Day 1. You will reach Australian Base Camp, a popular viewpoint among travelers, on the second day. Your journey to the base camp of Mardi Himal continues via Forest Camp and High Camp. The return journey takes you to Siding, a picturesque Gurung village, where you will stop for lunch.
This trek is the perfect option for travelers who want to avoid the overcrowded Annapurna Base Camp and Poon Hill trails without having to give up on amazing scenery. We have rated this trek easy to moderate and consider it a great option for beginners. The maximum altitude during this trek 4,500 metres at Mardi Himal Base Camp.
The trek route goes through Australian camp (a famous mountain viewpoint in the lower valley) to Deurali hill, then up to Forest camp with a moderate ascend. Continue trekking through the rhododendron forest ridge up to 4400 meters to Mardi Himal Base Camp. Mardi peak is 5800 meters and very rocky, and just next to Mardi is Mount Fishtail (Machhapuchchhre), with its iconic striking peak. Admire the view looking down to Annapurna Valley. After descending down to Seding and reaching Lawang village, experience the rural area, organic mountain coffee and tea and exceptional hospitality from the local village people.
The trek offers magnificent views of majestic mountains in the central Himalayas. The entire Annapurna Rang including Mt. Annapurna I (8091m), Annapurna II (7937m), Annapurna III (7855m), Annapurna IV (7525m), Annapurna South (7819m), Varaha Shikhar (7847m), Himchuli (6441m), Dhaulagiri I (8163m), Dhaulagiri II (7751m), Nilgiri (6940m), Thapa Peak (6015m), Tukche Peak (6920m), Machhapuchhre (6991m), Mardi Himal (5588m), Singu Chuli (6500m), Tharpu Chuli (5663m), Gangapurna (7483m), Lamjung Himal (6931m) can be seen during the Mardi Himal trekking.
The Mardi Himal Trek is a short, easy and allocated camping/tea house trek that enables one to explore the beauty of the Annapurna region. Mt. Mardi is located towards the east of the Modi Khola across the valley from Hiunchuli. The trek follows the least trodden trail away from the huge crowds and gives an essence of exploration. The whole stunning Annapurna range can be observed during the trek.
It goes through thick rhododendron forests, unspoiled terrain and takes you as high as 4100m within a few days walk on the ridge running down from the Machhapuchare Peak (6993m). The region is also known for its rich bio-diversity and wildlife. Danphe (Pheasant), Himalayan Thar, Mask deer, spotted Deer, Barking Deer, Snow leopard and many other Himalayan wildlife can be spotted while trekking in the region.
Day 1: Arrival in Kathmandu Airport.
Our tour officer will be receiving you at Tribhuvan International airport, Kathmandu. He will meet, greet and welcome you with auspicious garland and escort you to your respective hotel by our private tourist vehicle. At the hotel, he will assist you to check in and will be briefed about your overall program, introduced your guide and clear your questions/queries if any. Overnight at hotel.
Day 2: Drive from Kathmandu to Pokhara, 200 km west of Kathmandu. Driving 7 hours.
Our trekking guide will pick you up at the hotel at 6:15 am and escort you to the bus station. The bus to Pokhara leaves at around 7:00 am. This is 7 hrs scenic drives through mountain terrain. On the way, the bus stops for half an hour for lunch. Then drive continues till you reach Pokhara. Pokhara is a beautiful valley and gateway to Annapurna Trekking. Evening you enjoy strolling around Lakeside street market. Overnight at hotel.
Day 3: Drive from Pokhara to Kande. Driving 1 hour. Trek from Kande to Deurali (Alt. 2142m/ 7028ft).
After breakfast start the drive from Pokhara to Kande (40 minutes drive). You start trekking from Kande with an uphill walk to Australian Camp. It's around 1 hr hiking to reach Australian camp, locally known as Thulo Kharka. It is a grazing pasture land with an amazing panorama of Annapurna range with Dhaulagiri, Manaslu, and Machhapuchare. After the scenic break, continue walking on the forested trail to reach Potana, a small village located in the midst of the alpine forest. Overnight at a mountain lodge.
Day 4: Trek from Deurali to Forest Camp (Alt. 2,520m/8064ft).
After breakfast you start trek following the trail passes through the rhododendron forest to Deurali, mountain pass overlooking into the Modi Khola Valley stuck between Annapurna South and Mardi Himal / Mt Fishtail. From here the route leads into complete wilderness away from the main Annapurna trekking trail. You head towards north along a ridgeline into deep forested area where the temperature drops to cool with fresh. While walking you enjoy on super views of Annapurna I and South, Huinchuli, and Lamjung Himal. Today your night halt will be at lodge in the forest. Overnight at a mountain lodge.
Day 5: Trek from Forest Camp to Badal Danda (3210m/10531ft).
From Forest Camp, the trail leads higher on the uphill ridge with a steep climb. While climbing you see views of Hinuchuli and Annapurna South. Far below, to the left, you also can see the Modi River Valley leading up to the Annapurna Base Camp. When you ascend the vegetation starts to change with more rhododendron and the trees are covered with moss, lichen and tree ferns. Low Camp is the beautiful pasture land from where Mount Fishtail is visible. Overnight at a mountain lodge.
Day 6: Trek from Badal Danda to High camp (Alt 3600m/11810ft)) & Acclimatization
An hour or so above Low Camp the trail breaks out above tree line and towards the west where you have a good view of Annapurna South and Hiunchuli. The trail continues along the Mardi Himal ridge mainly on the grassland with some isolated rhododendron bushes along the way. You may see colorful Danphe pheasant on this section of the trail. The view from High Camp is superb to Annapurna South, Hiunchuli and Machhapuchhre (Fishtail). Overnight at a mountain lodge.
Day 7: Early morning hike to Mardi Himal Base Camp (4,500m/14,760ft) and trek to Low Camp (3,050m/10,006ft.
The plan for today is to wake early for the sunrise view then walks up the ridge towards Mardi Himal Base Camp. There is a well-established trail through the grassland with a couple of steeper sections however overall not too challenging. Look out for the dzokpo (yak/ cow crossbreds) grazing up here as well as Danphe pheasant. In the summer the sheep and goats from lower villages are brought up to graze in this area so you will pass a number of herder's huts along the way. After three hours of walking you reach Mardi Himal Base Camp at the elevation of 4500m. From the Base Camp, you can look into the Annapurna Sanctuary with a panoramic view of the south face of Annapurna, Hiunchuli, and Machhapuchhre (Fishtail). Then hike back to Low camp for night halt. Overnight at a mountain lodge.
Day 8: Trek from Low Camp to Siding Village (Alt. 1700m/5440ft). Drive from Siding to Pokhara. Drive 2-3 hours.
After breakfast, you follow another trail that goes down to Siding village rather than going back down to Forest Camp. The trail passes through the shade of the forest and out onto terraced fields. Sidhing is a traditional Nepalese village. From Sidhing you take a drive to Pokhara. It takes 3 to 3:30 hours of drive to reach Pokhara. Overnight at the hotel.
Day 9: Drive back from Pokhara to Kathmandu. Evening farewell dinner with Nepali Cultural show.
After breakfast, you walk to tourist bus station with trekking guide. The bus leaves Pokhara at 7 A.M. You will reach Kathmandu around 2 pm. The rest of the day at leisure/ you can do some last minute souvenirs shopping for your family and friends. Evening you will be offered farewell dinner with Nepali cuisines and cultural dances at typical Nepali Restaurant. Overnight at hotel.
Day 10: Final Departure.
The trip concludes today. Our tour officer will drop you at Kathmandu International Airport for your flight departure from Nepal.