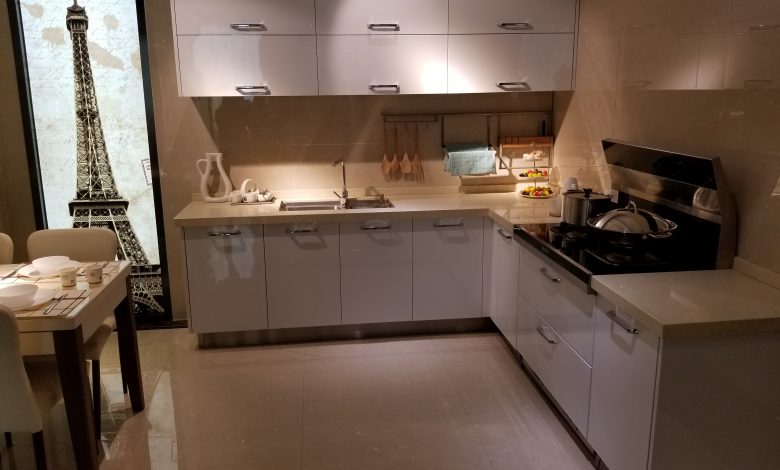 Stainless steel worktops are quickly becoming the preferred option for cooking. Besides being pretty and elegant stainless steel is quite durable and long-lasting.
Stainless steel countertops are widely seen in restaurants and professional kitchens, however with the material turning into a part of our homes, they're more and more replacing marble, granite, and wood. much like steel utensils, countertops have huge benefits, are simple to take care of, and can be a part of your home for years to come.
Stainless steel interiors are popular in kitchen decor because they provide a clean look, are corrosion resistant, and easy to maintain.
The kitchen is one of the most important places in a house. Not only is it the very place where delicious meals are cooked, but it's also the one place where many end up spending a better part of their day. Whereas previously we had not given much thought to the interior design of the kitchen, the arrival of brands specializing in kitchen decoration has changed this state of mind.
Only 10 years ago, when stainless steel kitchens were reserved for hotels and catalog kitchens for decorating magazines, and home kitchens, a collage of wood, ceramic, granite, and other similar materials, the decoration of the kitchen has indeed come a long way. Homeowners these days spend as much time and attention in designing their kitchen as stylishly as the rest of the house. After all, it's about living in the home of your dreams, and the kitchen can rightly be called the "heart" of a home.
Why do many prefer stainless steel for kitchens?
The preference for stainless steel is that it is easy to maintain and resistant to corrosion. In addition to being easy to use and maintain, the material is also inexpensive and shatterproof, ensuring its longevity. Their ability to resist stains and heat, and therefore they're non-porous, making them hygienic and easy to clean.
Kitchens are generally divided into wetland and dry zone, and in places like India, the wetland is more prominent under the kitchen space. Construction of stainless-steel equipment in wet areas is desirable to stop rust and resist water and oil more than a plastic or enamel interior.
Modern constructions take into account such things as scratch resistance and fingerprints. From wire drawers and baskets, stainless steel conquers sinks, kitchen counters, and even the fireplace.

Advantages of Stainless Steel in kitchen decoration:
Get a hygienic kitchen without fungus:
Stainless steel offers protection against all the little aspects that bother you. No more stains, no more germs and fungus, no more termites, and more infections and diseases in your home. All you get is a bright, germ-free kitchen with a shiny steel look. Germ-free cooking means healthy, germ-free food. Thus, it offers a safe and hygienic cooking experience and guarantees the best results.
Rust and Dust Free Kitchen:
Stainless steel is rust-resistant. Including the SS in your kitchen gives you rust-free cabinets that will make you fall in love with it. In addition, cleaning stainless steel components is quite easy compared to supports made of wood or any other material. All you need is a piece of fabric and a solution for a clean and dazzling light kitchen.
Stainless Steel is water-resistant:
India is a country that benefits from several climates. In Kerala, the average precipitation exceeds 300 cm. In these conditions, stainless steel proves to be a kitchen savior. During winters and monsoons, the cabinet becomes wet, which leads to soggy cabinets. The stainless-steel kitchen is completely water-resistant. It keeps the kitchen new forever and saves you heavy maintenance.
Environmentally Friendly and Durable:
One of the main benefits of including stainless steel in the kitchen is that it is very durable and environmentally friendly. These smart kitchens have an extended period and reflect the shine for years with no maintenance price. Going green is a wise decision.
Therefore, if you are planning to decorate your kitchen this year, include stainless steel in your planning. It makes the kitchen look good for years to come.
For more details visit our website: Fabrinox