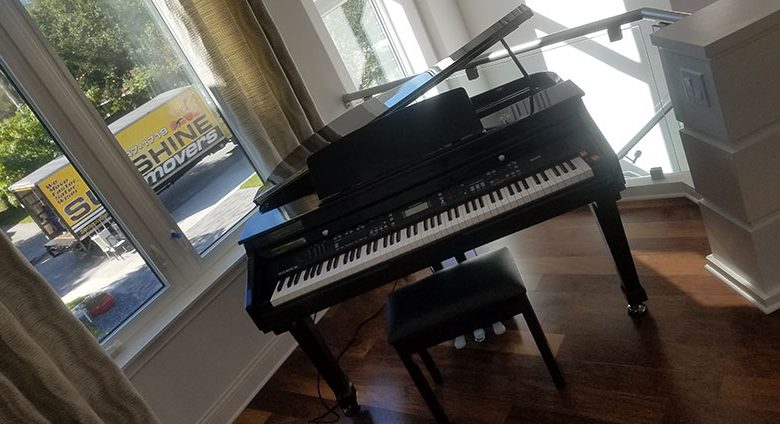 Moving a piano is a stressful and time-consuming task. Pianos contain delicate internal structures and feature intricate woodwork, which makes them fragile. A wrong turn or move could lead to irreversible damage on the instrument or personal injury.
Why risk damaging your piano while you can hire professional piano movers? At Sunshine Movers, we specialize in relocating specialty items such as pianos. As experts, we will move your piano with extreme caution and care.
How to Choose the Best Piano Moving Company
There are numerous self-proclaimed best piano moving companies in the market. So, how do you filter through and choose the best company? You should consider;
What is the size of your piano? Some companies specialize in transporting small pianos, while some specialize in big-sized pianos. If you are unsure of the size of your piano, always choose a company that offers both small and large piano removal.
Before giving you a quote for their service, a professional company will begin by asking for details about the move. Details like the pick-up and drop-off point, whether the building has stairs, spirals, or tight corners, will influence the pricing. Always compare quotes and choose a company whose services are within your range.
Always choose a company with the right equipment to guarantee the safety of your piano. Although cradles are often used, the right tools depend on the model of your instruments. Consider inquiring what type of equipment they intend to use to help move your piano.
If something goes wrong during the move, who will be liable? Sometimes, accidents happen. Choosing a company that offers additional coverage will relieve you of the liability should an unforeseen occurrence happen.
The best way to evaluate the credibility of the service and customer satisfaction is by going through reviews left by previous customers.
Why Should You Require Professional Piano Movers?
Pianos Are Heavy
By merely looking at a piano, you can tell it weighs several tons, but how heavy are pianos? Pianos can weigh between 300 and 1400 pounds, depending on the size.
The weight of pianos is attributed to the internal components, which are mainly made from cast iron and the exterior wood casing.
Therefore, you need specialized equipment that easily and carefully lifts your piano.  Professional movers have these tools and equipment as that is their specialty.
Pianos Are Super Expensive
A piano is a costly investment that you need to take utmost care of. Having spent a fortune acquiring the instrument, why not spend less hiring a professional company to protect it from damage as you move?
It would be a shame if you damaged it during a DIY move. In case it gets damaged, you will end up spending an average of 250 dollars for repairs.  Why not go safe by seeking services from pro piano movers?
Pianos Can Be Damaged Easily While Moving
Although pianos may seem indestructible and incredibly strong on the outside, they are not. Pianos are quite delicate as they consist of numerous complicated mechanical instruments which operate using delicate mobile parts. Thus, with so many fragile components, pianos can be easily damaged.
Some pianos contain as many as 12000 components. Imagine the extent of damage a piano can sustain during an amateur move attempt. The damage will be more than mere scratches on its surface. Luckily, professionals have the technical skills and expertise to transport your piano without damage.
Avoid Injuries and Accidents
No doubt your piano was an expensive investment, and only you understand that.  However, despite the investment in your piano or its sentimental value, your life is priceless.
Pianos are quite heavy, and their delicate nature makes them dangerous. Attempting to lift or move a thousand-pound piano can cause severe injuries like broken limbs. Piano movers use specialized equipment to efficiently move the piano without any accidents or injuries.
Proper Moving Truck
You need more than a big fueled truck to move your piano. Properly moving your piano means using a truck that offers maximum protection to your piano in all aspects, even during long-distance moves.
Professional piano movers use moving trucks with proper strapping equipment inside to keep the piano secured in transit. Also, the trucks are equipped with a lift gate to get the piano in the truck. The trucks safeguard your piano against potential damage due to weather conditions. They ensure your piano reaches the drop-off location intact and ready for use.
Cost-Effective
Does the professional piano movers' cost seem too high for you? The cost you are paying is inclusive of more than the service. You will also be paying for convenience, safety, peace of mind, and comfort you enjoy knowing your precious instrument is in the right hands.
Besides, you will also be avoiding hefty repair, retuning, and damage costs. Irrespective of how careful you are with moving, damages are prone to happen without the right skill, experience, and equipment.
It Saves Time
Are you in the middle of a residential move? Imagine how much time you need to properly pack your household items, not to mention the piano. Preparing your piano for a move is a tedious process that needs patience and utmost care.
Unfortunately, with everything else to pack, time is not on your side. Piano movers offer packaging services that can help you save time. As they handle the delicate musical instrument, you get enough time to pack other household items.
How Much Does It Cost to Move a Piano?
It costs $550 on average to move a piano, ranging from $350 to 900. The cost is dependent on various factors, such as distance and the size of your piano. A small piano cost less to move than a larger piano.
How to Pack a Piano for a Move?
Begin by closing the lid of your piano that covers the keys. Once in place, wrap a blanket on it. If you have a grand piano, gently lay the piano by its side and dislodge its legs.
Wrap the legs in a blanket and cover the whole piano in blankets to safeguard it against getting hit. Packing is a sensitive process that needs utmost care and expertise. We offer professional packing services within 24 hours and move on the next day.
In Conclusion
Besides producing high-quality sound, pianos are a great boost to the elegance of your home. Moving your piano along with you as you move is a challenging task. Given the delicate nature of a piano and its weight, you need expert moving services. Apparently, at Sunshine Movers, we offer piano moving services for short and long distances. Contact us today and let us know what we can do for you.
FAQs
Can I Move My Piano Myself?
No, you cannot. Besides being heavy, pianos are quite delicate, and moving them yourself can cause more harm than good.
How Much Does It Cost to Move an Upright Piano?
Piano removal cost for upright pianos is $150-$300
What Is the Average Price to Tune a Piano?
Depending on the tuning session it needs, tuning can cost between $100 and $200.
Can You Move a Piano in a Pick-up Truck?
Yes, but it is not advisable since it might cause extensive damage.